AMP Price is up 46%, making it the biggest gainer on Crypto.com. With a market cap of $2.8 billion, it's clear that there's a lot of support behind the project. Let's take a closer look at AMP and see what all the hype is about.
What Is AMP?
The AMP token is a collateral token offering verifiable assurance for any real world applications. In other words, AMP helps you to decentralize risk for your users with smart contract features that are built from the ground up for collateral.
The AMP platform allows users to stake their coins to earn rewards and helps collateralize a variety of assets. Moreover, AMP's open source code allows anyone to deploy their very own custom collateral manager to interface with the AMP network.
Why Is AMP Price Rising?
The reason for today's AMP price hike is due to Binance announcing the token's listing on their platform. In a tweet posted today, Binance announced that it will be listing the $AMP and $PLA tokens.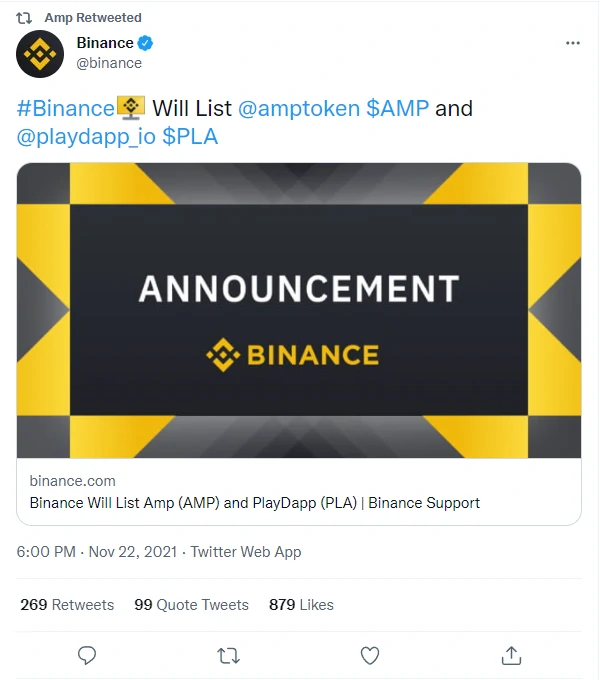 It comes as no surprise that AMP price increased right after the announcement.
This is a common trend to see a coin's price pump after a Binance listing announcement. Whether the pump will continue is yet to be seen.
AMP Tokenomics
At the time of writing, AMP is trading at $0.072, up over 46% in the past 24 hours. The 24 hour trading volume is at $87 million, mostly coming from Coinbase exchange but is now picking up on Binance.US.
With a market cap of $3 billion, AMP is a relatively large project on the market. With the recent Binance listing, it's clear that AMP has a solid team with a unique product. Overall AMP has a great outlook for 2022, especially as AMP's ecosystem continues to grow.
Disclosure: This is not trading or investment advice. Always do your own research before buying any cryptocurrency.
Also Read:
Follow us on twitter @arginchronicles to stay up to date with the latest cryptocurrency news!